Ramblings: Krug and Carlo injured; Tuch setback; Detroit's top line; goal differentials – March 10
Michael Clifford
2020-03-10
The big news from Monday is that the four major North American sports currently playing their regular season or ramping up to their regular season, including the NHL, are temporarily barring reporters from entering the dressing rooms post-practice or game over fears of COVID-19 transmission. It's probably not the last we've heard from the major sports as this virus continues to pop up.
*
Both Torey Krug and Brandon Carlo both missed practice on Monday, and coach Bruce Cassidy thinks both will miss their game on Tuesday. He did say they expect Carlo back later this week, but with Krug out of the lineup, Matt Grzelcyk is likely to assume the mantle on the top PP unit. If you have daily transactions in an H2H playoff format, this might be a good time to grab Grzelcyk.
*
A good read from Harman Dayal at The Athletic about why the Canucks don't quite trust Jake Virtanen with a top-6 role. Virtanen is a guy I've reversed course on over the last couple years as his underlying metrics have shown signs of good productivity, and he's on the verge of his first 20-goal season. I don't think it's reasonable for Virtanen to get top PP minutes with the forward talent this team has, but even more even-strength minutes would help here. I hope he gets them sooner rather than later.
*
Dobber had a small bit on Tyler Bertuzzi in his Ramblings yesterday and I wanted to talk more about that right now.
The line of Bertuzzi-Larkin-Mantha has been excellent together over the last couple years, but if we break them down into pairings (Bertuzzi-Larkin, Bertuzzi-Mantha, Larkin-Mantha), the common link seems to be that Mantha is really the large wooden spoon that stirs the cauldron. That worries me, because if Blashill breaks them up next year, it could hurt everyone on that line quite a bit.
What would help is Fabbri or Zadina continuing to take steps forward. Maybe one of them can step in and replace some of what Mantha does but it's far from a guarantee.
I'm relatively high on the fantasy prospects of the top of the Detroit roster but it would seem that it's dependent on the lineup configuration, and that should be a concern. As long as Mantha stays on the top line, they'll be good-to-very-good. If he's not, then things get a bit murky. Murkiness is bad for business in the fantasy game.
*
Conor Garland has been given a week-to-week prognosis, which doesn't bode well for his availability in H2H playoffs. Clayton Keller would be the guy to grab for now, if he's available.
*
The Penguins signed undrafted free agent Drew O'Connor.
*
Morgan Rielly was practicing on the second PP unit for the Leafs on Monday, indicating that he's close to returning. Probably wouldn't hurt to check the waiver wires.
*
Alex Tuch did not return on Monday night as Vegas had hoped, and he has in fact suffered a setback in his recovery from his lower-body injury. He has returned to Vegas, likely meaning he's not returning at any point this road trip.
*
It's not quite the end of the season yet but it is sort of the end of the season, of sorts. From here on out, there's really not much to be researched other than team schedules. We have lots of material to that effect, the most recent being Bren Des and his matchups column from last week and Adam Daly's 'Looking Ahead' from Friday. There's even Chris Kane discussing recent trade acquisitions and how they've fared since the trade. We have you covered, and will continue to have you covered, through to the end of the year.
One thing that is of interest is how the game is being fundamentally changed. More specifically, how it's being played.
As of Sunday night, per Natural Stat Trick, there were 4221 goals scored at 5-on-5 in the NHL, compared to 3887.78 expected goals scored. That works out to 8.57 percent more goals than we'd expect. In the 2018-19 season, we had 6.98 percent more goals than expected goals, 4.28 percent more goals in 2017-18, 4.05 percent in 2016-17, and 0.9 percent in 2015-16. That is drastic.
There are a few things about expected goals that people should know. First, that it's partly influenced by proximity to the net. Shots from in tight are worth more than shots from far out, and that should intuitively make sense; it's easier to score when banging home a rebound from six feet away than bombing a point shot from 55 feet. Also, it has a tough time an accurate picture of royal road passes, or what are commonly known as cross-ice seam passes. A precise royal road pass can leave the shooter with a mostly open net but expected goals models have a tough time accounting for making the goalie move, and modern offensive tactics are partially focused on getting the goaltender to move. Now, as those tactics become more prevalent and certain shot locations become more valuable because of it, that will be baked into the expected goals models to some extent.
I don't want to get way out of hand here and say that the gap will continue to grow or that I even completely understand what's going on. There is so much to sift through that I honestly don't know where to start. What I do know is that game is fundamentally changing, and it's kind of exciting.
*
The fun thing about the rising difference between goals and expected goals is looking at the leaders. So, among forwards with 2500 minutes at 5-on-5 since the start of the 2017-18 season, here are the leaders in goals minus expected goals: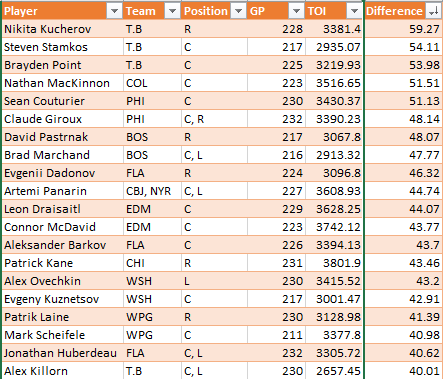 Those are largely guys we'd expect. They're some of the most talented players in the NHL playing on some of the most talented lines in the NHL. (Plus Alex Killorn, but he's spent enough time in the Tampa Bay top-6 to qualify.)
I'm not sure how much there is to glean from this for fantasy – hey, super talented guys playing with other super talented guys score a lot, film at 11 – but I do think it open the doors to trying to figure out who can exceed their expected goal rates moving forward.
There are also coaching influences. Some coaches are more conservative than others, some are willing to live with a turnover eight feet inside the blue line when trying to make a pass, some are not. I'm more than willing to admit that guys like Aleksander Barkov and Artemi Panarin can make it work almost anywhere with anyone (in fact, Panarin has), but what about the guys that aren't franchise cornerstones? Looking at other guys by expected goal differentials in the top-50 include names like Brett Connnolly, Nick Bonino, and Ryan Dzingel, among others we don't consider to be among the elite. They're also players that have spent infrequent minutes playing with other elite players. What do they do that's so special that they can help their team convert expected goals into actual goals at a higher rate than most?
My hope is that player tracking technology can help provide some clarity here. My worry is that data from player tracking technology is going to be closely guarded and withheld from the public. Their play-by-play data is what led to the analytics revolution more than a decade ago. The player tracking data could be the next revolution, but the public needs the data to be available. I worry the NHL will keep everything to themselves while just flashing "Connor McDavid skated 32 kilometres an hour on this breakaway" on the screen.
Regardless, this is an exciting time to be a hockey fanatic. The game is changing pretty much annually and there is so much available for consumption that it can be hard to keep up, but it also provides much illumination about the game we love.
*
When looking through those numbers, one guy stood out: Johnny Gaudreau. In four of his first five seasons, the Flames outscored their expected goal pace by at least 10 goals at 5-on-5, the one exception being 2016-17 when the team scored 41 goals with Gaudreau on the ice against 38.6 expected goals. The reason I bring him up is because the team has scored 40 goals with him on the ice this year at 5-on-5 against 39.96 expected goals. He's right on pace with expected goals numbers after a half-decade proving he has innate skill to outscore them.
Of course, it should be noted he also has the lowest on-ice scoring percentage of his career (7.6 percent) which is factoring in here. To that end, even if the team was shooting nine percent with him on the ice, they would still only be outscoring his expected goal pace by eight, well shy of what he's done in years gone by (though there would still be four weeks for him to catch up).
Despite all this, I don't think there's a real reason to be down on Gaudreau heading into next year. If his individual shooting percentage were normal, he'd be knocking on the door of both 30 goals and 80 points. It's a far cry from his 99 points in 2018-19, but it's certainly not bad by any means. There's more work to do here in the off-season but I will probably be a buyer.