Ramblings: Some words on Saros, Pionk, Sergachev, Schenn, Buchnevich, and Forsberg – April 16
Michael Clifford
2020-04-16
Looking back on the 2019-20 season, there are a lot of stories that have been hashed and re-hashed: the emergence of the all-star rookie defencemen, McDavid/Draisaitl dominance, Hellebuyck carrying Winnipeg, the playoff race in the Metro, Bryan Rust throwing up monster points out of nowhere, the slow establishment of Tampa Bay's dominance, and on we can go. I want to dig into a few things that may have not been discussed as thoroughly and they'll be through a fantasy hockey lens.
As such, I want to go through a handful of fantasy-related stories that we may have overlooked or outright forgotten (honestly, the hockey season feels like a lifetime ago). These are in no particular order and have no particular relevance other than I think they're interesting.
After a couple of seasons with real strong showings as a backup goalie in 2016-17 and 2017-18 (he had a .924 save percentage across 47 appearances), he fell off in 2018-19 (.915 save percentage) and was about the same in 2019-20 (.914). But it's how he got to the .914 that is important.
Through Saros's first 20 appearances in 2019-20, which stretched until New Year's Eve, he had just an .890 save percentage. It's not as if Pekka Rinne was doing much better, though, as in that same time frame, he posted an .894 save percentage. The net was, effectively, wide open for either goalie to take the reigns of the starting gig in the second half of the season, and Saros did just that.
From New Year's Eve onward, Saros had 20 more appearances and managed a .934 save percentage in that span. By contrast, Rinne had just 13 appearances and an .898 save percentage, with just five appearances from the first of February to when the season was shutdown. Saros had taken over the net, and he was playing spectacularly.
Over the last three years, Saros's goals saved above average per 60 minutes tie him with Corey Crawford and Jaroslav Halak, and have him ahead of names like Frederik Andersen, Jacob Markstrom, and Sergei Bobrovsky. Rinne has just one year left on his deal and turns 38 years old in November. This is Saros's net heading into next season, just keep that in mind for drafts.
Neal Pionk
So, I'm going to be honest and say I'm still not sure what to think of Pionk. Across the board, Pionk's underlying numbers – how he impacts offense and defense – were well below average through his first two seasons in New York (from Evolving Hockey):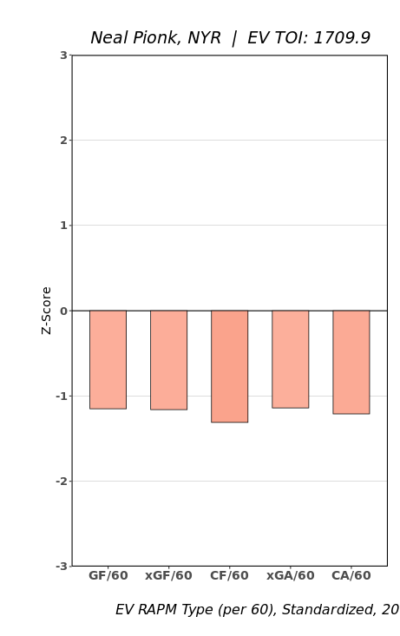 Without just flooding charts, he improved across the board in 2019-20, with the biggest improvements coming in his impacts on shot attempts for and against. He also had monstrously impressive play-driving numbers on the power play. Now, there are still arguments that at even strength, he's still be no better than a league-average defenceman, but if he can at least be league-average while running that top PP unit, well, that's pretty good for fantasy purposes.
I point all this out because in standard Yahoo! leagues, Pionk has been a top-25 skater. Not defenceman, just a top-25 skater in total. When play was suspended, Pionk had realistic shot at both 180 shots and 180 hits, while posting close to 50 points with well over 20 PPPs. That's a marvelous fantasy season. As long as he keeps running the top PP unit, there's not much reason to think he'll have a significant drop off. There is just too much talent for that to happen. Maybe he doesn't repeat 50-point seasons, but with the lack of options on the blue line, he's good enough to not lose his spot, at least for now. We'll see where things stand when Ville Heinola is ready.
Sergachev has now posted at least 30 points through his first three full seasons, making him one of two defencemen to do that in their age-19 through age-21 seasons since the year 2000. (The other, by the way, is Zach Werenski, who is considerably better than he gets credit for.) Part of that, obviously, is the fact that he plays for a team that scores boatloads of goals. But that dismisses Sergachev's own offensive prowess; he leads Tampa Bay blue liners in assists/60 minutes at 5-on-5 over the last three years. Yes, it's even higher than Victor Hedman's.
It's big, big news that Sergachev started playing considerably more minutes this year, coming in at 20:22 per game. That's nearly a 2:30 increase over 2018-19, and it's why despite playing fewer games in 2019-20 than either of his first two seasons, he ended up with more hits and blocked shots than ever before. Had we gotten 82 games, he probably would have had at least 110 in both categories while closing in on 40 points. That ice time helps support his fantasy cause while he waits out Hedman for PP1 status. It won't be until he gets those PP1 minutes that he fulfills his fantasy potential.
Over his three seasons in the NHL, Sergachev has been well above average as a blue liner in most regards, and he doesn't even turn 22 years old until this summer. There is still a lot of growth to come for him as a player, and he's already pretty good. Get excited, dynasty owners.
St. Louis hasn't really been great for fantasy value this year, but Schenn was doing just fine. He had 25 goals (four away from a career-high), he had 58 points (two off his second 60-point season), he had 21 PPPs (the first time in three years he managed at least 20), and was on pace for easily reaching both 150 shots and 125 hits. A guy who can put up 25-35 with 150-125 and 20 PPPs is very valuable in multi-cat leagues.
All this, mind you, was without the team's top offensive threat in the lineup most of the season. Whether Schenn would have played with him or not, who knows, but if he did, he would have had an elite right winger to skate with, and if he didn't, then he probably would have had easier matchups on the road. Either way, Schenn thrived through a tough situation and that speaks to not only his role on the team but the talent he possesses.
I don't see why anything should change for Schenn in the future. His role is secure and there's still a lot of talent all over the St. Louis lineup. He might not always play centre, and he didn't stay there at all times in 2019-20, so beware of him in leagues with faceoff wins. All the same, he's a model of fantasy consistency, with four of his last five seasons posting totals of at least 25 goals, 30 assists, and 110 hits (the one season he missed he had 17 goals). The only concern is his age, as he'll be 29 for next season, and once power forwards get to his age, we start to get worried.
There are a lot of positive stories around the Rangers, whether it's Panarin's MVP-calibre performance, Kreider's outstanding fantasy season, the blue line triumvirate of Trouba/DeAngelo/Fox, Strome coming out of nowhere for his best year ever, or Shesterkin's breakout performance in net. All this makes it easy to overlook that not only was Buchnevich having his best fantasy season, but he was great in real life, too.
There were 161 forwards in the NHL with at least 1000 minutes played at all strengths this year, per Evolving Hockey again. Of those 161 forwards, Buchnevich was 15th in WAR/60 minutes, finishing ahead of such luminaries as Connor McDavid, Auston Matthews, Sean Couturier, and Jonathan Huberdeau. No, I don't think Buchnevich is better than every name on that list, but yes, I do think he's very much underappreciated for how good he is. He's improved his WAR/60 mark every season he's been in the NHL and is still in his prime. He's been dogged by the coaching staff, being scratched or stuffed in the bottom-6 with frequency in his career, and despite that, he's still been excellent for them.
It's important to know that Buch gets a good chunk of his WAR value from his defence and penalty drawing. Those aren't things that show up on the fantasy sheet. But I do think that he's more than earned a top-6 role for the foreseeable future in New York, and that makes it easier to project 50-point seasons for him.
I'm not going to go into a big long speech here. We know the Preds forwards have largely been pretty bad this year for fantasy, and Forsberg is no exception. With that said, his 82-game paces this season were: 27 goals, 35 assists, 258 shots, 107 hits, and 18 PPPs. That is a good fantasy season, and he was enduring a three-year low in on-ice shooting percentage at 5-on-5, his worst shooting percentage as an individual at all strengths for his career, and a five-year low in TOI per game. This is a guy whose floor seems to be 25-35 with 250-100. That's a good floor.
I worry about his future value, though. Coach Hynes really spread out the TOI, and that's terrible for fantasy value. This team still cannot boast a good power play for whatever reason, either. Those two things are really going to hold back Forsberg from being much more than a 60-point guy, which is a shame because I think in the right spot with the right role, he can be a point-per-game guy.