Ramblings: Saros' Time, Barkov's Redemption, & Multicat Prospects (May 13)
Cam Robinson
2020-05-13
Pardon the brevity of this Ramble. The internet has been down for most of the day so I've been linking LTE off of my phone (likely at the cost of my children's university savings). However, even though we continue in the holding pattern of no real hockey news, it doesn't mean we can't get into some nitty-gritty fantasy talk.

**
I had a Twitter follower reach out and request some intel on potential multicategory performers from the upcoming 2020 class. His criticism was that nearly every ranking and outlet focuses almost exclusively on points-only setups and ignores the wider cats. This isn't by mistake either. It's because when we're looking at draft-eligible players from a fantasy landscape, the focus is primarily locked on their ability to translate offense. Because if they can't, then it doesn't really matter how many hits they throw, it's unlikely they'll play a large enough role to be a fantasy asset.

So, some years it's easy to throw a name or two out there and say, "This guy is going to fill up your scorecard" ala Tom Wilson or Brady Tkachuk. Yet, for the most part, the top 40 or so players selected are high-end offensive players (yay), sturdy defensive (boo), or a combination of the two (meh).

We do try our best to isolate some multicat options in the Fantasy Prospect Guide (coming soon), but I'll give you a couple more here as well. (While you're at it, just start cruising the DobberProspects' 2020 Draft Section. It's full of goodies


Shooters
There are going to be a good amount of volume-shooters at the top end of this crop. But especially: 
Hitting Machines
Sorry to disappoint, but there aren't too many potentially impactful fantasy assets who also love to bang. That said, I think we see a couple of them develop enough in that regard to be tangible producers. Usually, if you're hitting a fair amount, you're adding some PIMs to the table as well. 
This category is usually filled by true, energy line bangers or the defending crop. Of note, there aren't many clearly physical D that I'd be jumping to draft early in this group
Faceoffs
Sure, the advanced stats crew have basically deemed faceoffs a needless trait to chase. It's just another example in a sea of 1v1 battles. But that doesn't mean it's coming off of the fantasy checklist for many leagues. 
Cole Perfetti – clicked over 60% in the OHL as a d-eligible kid this year. Juicy.
Anton Lundell – 53.5% as a d-eligible in the Liiga. Also juicy
**
As someone who prides themselves on hockey trivia, this was not an easy test. Give it a whirl and see how many you can get right. 
**
In recent weeks, I've been providing examples of players whose value may exceed their perceived value to their fantasy owners. These are opportunities. Today, I think there's a player who may fit that bill, even if his pedigree will impede the perceived value from dipping too low.

Sasha Barkov. 
Coming off of a career-high 96-point season as a 23-year-old in 2018-19, the Panthers' top player slipped down the point leaderboard with 'just' 62 points in 66 contests this year. That's not ideal for a player that was likely selected very high in one-year leagues and earmarked as the franchise piece in many keepers.

So what happened and why should we believe the Finnish centre will rebound? 
In the three seasons predating the 96-point effort, Barkov had already established premier deployment. He was seeing 22-plus minutes per game – at least three of those coming on the top power-play unit. But it wasn't until 2018-19 that his PPPs joined the creamy part of the league. He had averaged 15 power-play points per season before popping off with 31 that year. In 2019-20, he had 17 – which was a pace of around 21. 
Taking a look at the Panthers' as a whole on the man-advantage paints a clearer picture. From 2015-16 to 2017-18, Florida was the 27th most effective man-advantage team clicking at just 17.6 percent. During Barkov's career 2018-19 campaign, they were second in the league with a 28.2 percent rate. This past season, they dipped into a most sustainable 21.3 percent rate – good for 10th in the league.

With the firepower in South Florida, I think it's fair to expect the Panthers to remains amongst the top half of the league in that 20-22 percent zone. And that means we can look for around 20-25 PPPs from Barkov in a normal season.

The shooting percentage should level out in the 12-15 percent range – which should lead to around 30 goals. But what's most interesting is that Barkov saw just 42 percent of his starts in the offensive zone in 2018-19 when he torched the world. This past season that number spiked to 58.8 percent.

So while he was given far greater opportunities for offense this past season, the results refused to follow. I'm of the mind that this is an anomaly. If you continue to provide those times of minutes, opportunities and quality of linemates to a player such as Barkov, the numbers will hit back. You throw in he and Jonathan Huberdeau in the midst of their prime statistical seasons and there are reasons to be optimistic.

I'm buying Barkov as a 90-point player for next season. If you can find an owner who thinks he's maybe a 75-80 point guy, then it's time to push hard for that purchase. 
**
Preach, Jarmo!
I don't remember where but Jarmo Kekäläinen once said something like "Why would I be the one deciding who we draft when our scouting crew has been working all year long for that? I've maybe seen the guys a couple of times, they've watched them dozens of times."

— Jokke Nevalainen (@JokkeNevalainen) May 12, 2020
**
Just how valuable is Quinn Hughes to the Canucks' backend? Well, the rookie defender wasn't just putting up points, he was impacting the game in all situations. Usually, a first-year, offensive defender will be a drag away from the puck. But that wasn't the case for Hughes. Take a look at the Vancouver defense numbers: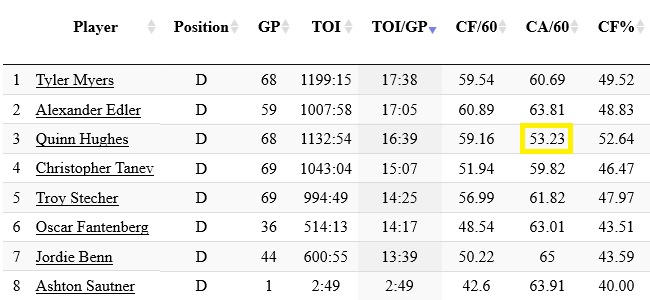 Hughes is the only one on the right side of the ledger. He was more than keeping his head above water defensively. Even factoring in the 62.8 percent offensive zone start times. 
While we're on the topic, Hughes is shaping up to be the most prolific scoring defender in ages. Yes, even ahead of Cale Makar. But only by a hair.
**
2020-21 will be put up or shut up time for Juuse Saros. Pekka Rinne is heading into the final year of his contract and will be 38 before the calendar flips again. We've been waiting for Saros to take the ball and run with it for what seems like forever, and it looked like we were going to see it down the stretch this year.
The 26-year-old, Saros was very good in the back. He was 12-5-1 while punching a 0.934 save percentage in 2020. Those were elite numbers. The save percentage trailed only Tuukka Rask's 0.938, while the 12 victories in 18 games gave him a .670 winning percentage – behind Andrei Vasilevskiy, Carter Hart, and Igor Shesterkin.
It's time for Saros to grab the reins and start 55-plus games for the Preds next season. And if I'm betting, I think we see top-10 fantasy netminder metrics as a result.
**
Rest easy, Jerry Stiller. You were one of the absolute all-timers.
**
Follow me on Twitter @Hockey_Robinson