Ramblings: Price skating; Draft rankings; previewing Islanders vs. Panthers – June 26
Michael Clifford
2020-06-26
The 2020 Dobber Hockey Prospects report is available in our Dobber Shop! With the Lottery taking place tonight, it's a good place to brush up on the top-end names. Beyond that, we have notes and projections for both prospects on their way to the NHL and those that have already been drafted. It's a very comprehensive look at each team's prospect depth, which helps identify which players could arrive and when.
*
Carey Price is back skating as the players keep returning for Phase 2. He also had some comments about the situation they find themselves, and his personal life. This is still at the forefront of a lot of players' minds, especially where it concerns their own families.
*
A small note on the NHL's RTP plan: the entire package will be voted on by the entire NHLPA membership, according to Rangers beat writer Larry Brooks. The initial RTP was voted on simply by each team's representative. This should give us a better idea of where the players stand.
*
Our very own Cam Robinson has released his final draft rankings. He gives a very thorough read of dozens of players and the skills they bring. As with our Prospects Report, it's another solid resource from which to help form your opinion. There is a tremendous amount of work put into those rankings, so be sure to send Cam a virtual high-five.
*
Over the last couple weeks, I've been kind of previewing the play-in matchups by reviewing the seasons of each team. That entails how they performed through the year, how good (or not good) their top-end guys were, how strong they are at each position, and any injuries that may linger. The idea is to get everyone back up to speed about where we stood when the season was suspended, and how teams may be getting reinforcements in terms of players returning from injury.
We've finished the West and are making our way through the East. Here are the prior matchups:
Today, let's head to a series that reminds me of the Minnesota/Vancouver series in the West: Islanders and Panthers. Stats from Natural Stat Trick or Dobber Tools.
Florida
A couple years ago, the Panthers missed the playoffs by one point. Last year, .892 goaltending sunk them. To remedy all this, they went out and signed Sergei Bobrovsky to a 7-year, $70-million deal. The thinking was the two-time Vezina winner would solidify things in goal, and the plethora of scoring options would carry this team to a playoff position for the first time since 2016, and only the third time this millennium.
By the end of regular season, before it was suspended, Chris Driedger was getting regular starts. Now, it was due to a lower-body injury from Bobrovsky, but how much leash is Bob going to have for the play-ins? The Panthers got a second life, and now have a chance to make a Cup run. If Bobrovsky gives up five in the first game, does he get a second game? This uncertainty in net is a problem.
They definitely don't have problems up front, but we need to remember they traded Vincent Trocheck at the deadline. This wasn't a team expecting to get to the playoffs. Erik Haula is the new second-line centre.
Florida still has loads of scoring, though. Aleksander Barkov still had a very strong year. His points/60 minutes at 5-on-5 was almost identical (2.31) to the year before (2.30). The problem was the loss in ice time. He lost nearly 1:30 per game (1:22, to be exact) at even strength per game. In a 66-game season, it probably cost him about four or five points. In a full season, even more. With consistent ice time to last year, he probably has around 70 points in 66 games, and people are suddenly less worried about his production.
Jonathan Huberdeau led the team in scoring, and was on pace for another 90-point season. Had the season completed, Mike Hoffman would have certainly reached 30 goals, and Evgenii Dadonov had a good shot as well. Add in potential 20-goal seasons from guys like Brett Connolly and Frank Vatrano, and the team has no shortage of scoring.
Just a quick reminder: at the break, Barkov and Huberdeau had been skating apart at times. Wait and see what practices look like in a few weeks.
Florida's top pair of MacKenzie Weegar and Aaron Ekblad was excellent. After that… there were issues. Here's the team defensively with that pairing on the ice, from Hockey Viz, at even strength: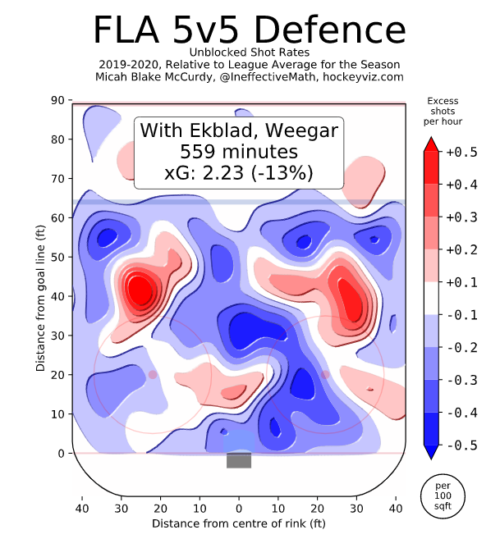 Remember, blue means fewer shots than league average, and the darker the shade of blue, the fewer shots allowed. They were really good defensively.
On the flipside, this is the team without either Ekblad or Weegar on the ice: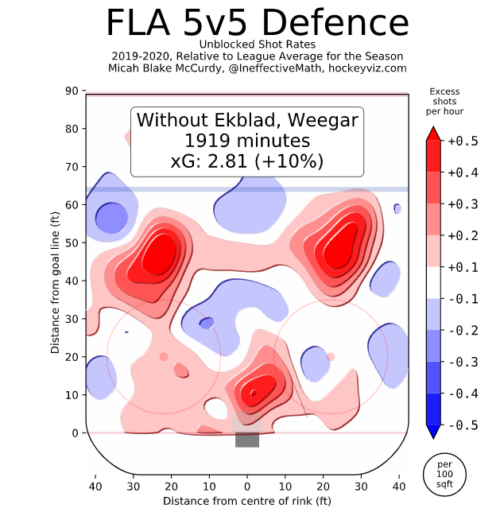 It's a crime scene.
Therein lies Florida's problem. When they have their studs on the ice – up front or on the blue line – they can match up against anyone in the league. When their depth is on the ice… they need to rely on their goaltending. And as we discussed, relying on this goaltending this year has not gone well.
It is worth noting that Florida got a bit better defensively as the season wore on. Through New Year's Eve, they were 26th in the league by expected goals allowed. Once the calendar rolled to 2020, they improved to 18th, and were actually in the neighbourhood of their series opponent (16th).
There are no significant injuries to discuss.
NY Islanders
The 2018-19 season saw Barry Trotz roll in to a team that just lost John Tavares for nothing, and he took them to a 103-point season and tied for the best goal differential in their division. This was done on the back of a goaltending tandem and defensive system that led them to the fewest goals allowed in the league.
A year later, they tried the same thing, and got kind of the same results. They are back in the playoffs, but the team went from allowing the fewest goals (by a significant margin) to being tied for sixth-fewest. Still very good, obviously, but not quite the lockdown defence as the year before, considering they finished mid-pack by expected goals against (compared to top-10 the year before). They're still a good defensive team with good goaltending, they're just not the team of a year ago.
They are scoring a bit more per game than last year (0.06) but it's not quite the same team defensively, so it all balances out.
Depth scoring continues to be an issue. Matthew Barzal had another 60-point season, improving his points/game from a year prior. According to Hockey Reference, Barzal is one of 17 players to post at least 200 points from his age 20-22 seasons, and he has the same points/game as Nathan MacKinnon at that age.
Anders Lee posted his fourth straight 20-goal season while Brock Nelson posted 26. Anthony Beauvillier had a breakout season as he surely would have posted 20 goals and 40 points in a full season, and he was playing very well at both ends of the ice, to boot. All this is to say I think the team has a good top-6, but they'll be in tough matching against the Panthers' top-6.
It's on the backend where the real difference is made. Flat-out, Ryan Pulock was one of the best defencemen in the league this year. By Evolving Hockey's WAR metric, Pulock was number-2 in the league this year, behind Ryan Ellis. His points/60 at 5-on-5 was higher than Thomas Chabot's and Shea Theodore's. He was outstanding.
While not necessarily household names, both Adam Pelech and Devon Toews had solid seasons as well. Noah Dobson looked real good in his limited game action. I think this is a much better blue line than it gets credit for.
Another advantage could be in goal, given that both Semyon Varlamov and Thomas Greiss were considerably better this year than Sergei Bobrovsky. Bob, however, still has elite pedigree and a short series makes anything possible.
I haven't seen a firm update on Pelech's injury status, but I did see he was skating with some Islanders guys in Phase 2, so I assume he'll be ready for the play-ins. They shouldn't have other injury concerns, either.
This is a matchup of a team with a great top-6 and spotty defensive depth a team with a good top-6 and better defensive depth. It should be fun to see what breaks first.