Ramblings: Jack Johnson buy out; Simon not qualified; Klefbom injury; Niskanen retiring; NHL Draft time – October 6
Michael Clifford
2020-10-06
Jack Johnson was bought out by the Penguins. It's notable because there's a logjam on the left side of the Penguins blue line and that was before acquiring Mike Matheson. They could line up Dumoulin-Matheson-Pettersson and that leaves Riikola and Pierre-Olivier Joseph on the outside looking in. For those looking at P-O Joseph to get in the lineup for 2020-21, there's a better chance it happens now than it did two days ago.
*
Sticking with the Penguins, they did give a qualifying offer to Dominik Simon, making him an unrestricted free agent.
This is a very curious name to have on the UFA market. His defensive impacts over the last three years, as measured by Evolving Hockey, are near or past the first standard deviation, which puts him in the 80th percentile defensively. His offensive skills aren't up to the same level but for a guy who probably won't cost much more than the league minimum, he doesn't need to put up 60 points. Even 25 points with good defence in the bottom-6 is a great season for a min-salary player.
When looking up those defensive impacts, I thought the profile looked similar to a guy I looked up recently on Evolving Hockey. I wasn't far off: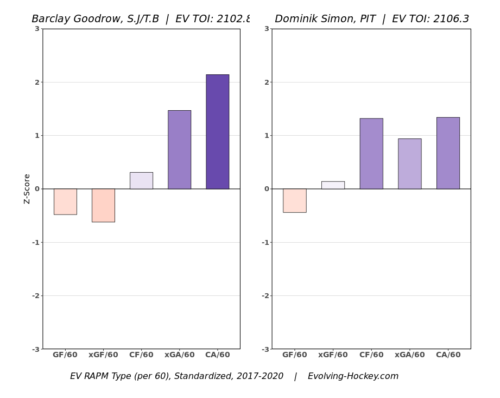 I'm not saying they're the same player. All I'm saying is it won't cost a first-round pick to find out what Simon can do.
*
Things don't sound good for Oscar Klefbom as he's back in Sweden undergoing treatments for his ongoing shoulder problem. Oilers GM Ken Holland intimates that in quote linked above that this could be a very lengthy, very serious recovery.
*
Matt Niskanen is forgoing his last year of his contract and is retiring from the NHL. He's well over 1000 games played including the playoffs, has made tens of millions, and