Fantasy take: Montreal sends Max Domi to Columbus for Josh Anderson
Michael Clifford
2020-10-06
It had been rumoured for a while that Montreal was looking to move Max Domi, and it had been rumoured for a while that Montreal was interested in RFA winger Josh Anderson out of Columbus. All those rumours came to fruition as Domi was traded for Anderson in a swap, with the Habs adding a third-round pick in 2020.
Anderson was injured for most of 2019-20, scoring just one goal in 26 games, but he averaged 23 goals every 82 games the three years prior. Domi also had a down 2019-20, posting the second-lowest point-per-game mark of his career (0.62, and remember he played for Arizona for three years), but posted 72 points in 82 games back in 2018-19.
Let's break it down.
What Montreal gets
The Habs get a big-body winger who can drive the play and who can score. Those guys don't come around very often. It is not conjecture to say he drives the play, either. Here are his offensive and defensive impacts from 2016-19, or not including his injured season: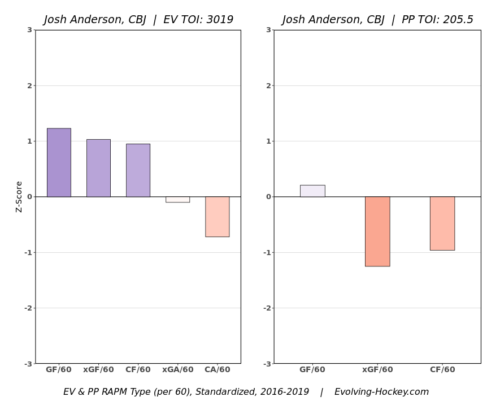 That's stellar. He's inside the 80th percentile for driving shots and expected goals, and he's passable defensively. Mix those in with a guy who is 6-foot-3, hits like a freight train, can kill penalties, and can score 20-plus goals, and there's a real good winger here.
Anderson's problem, of course, is injuries. He had that shoulder injury that seemed to bother him all season before finally having surgery in March (he played just 26 games in the meantime). If that shoulder isn't fully healed by the time the next regular season rolls around, this could be a problem. Anderson will be UFA in a year and we know that power forwards tend not to age well. The window the Habs have to get full value out of him probably won't extend for five or six years past UFA (he turns 27 in May). They need him to be healthy and back to 2018-19 form ASAP, and the fact that he does not have a long-term deal in place already is concerning. You don't want to sign this guy for six years after next season, you want to sign him for five years now. And they may not eve