Ramblings: Re-Drafting 2017, Cirelli, Hoglander, Heiskanen, and Malkin (April 15)
Cam Robinson
2020-04-14
The NHL has extended its Lockdown phase another two weeks. That'll take us until the end of April. This remains unsurprising and will continue to occur as the league will not want to cancel the season until they absolutely must.

It's strange to see the different possibilities being heralded by different sports and those in the know. We see Florida deeming WWE wrestling as an… essential service. How surprised can we really be, this is Florida we're talking about.

But then just a few days earlier we had ESPN's Adrian Wojnarowski report that NBA executives and "many in sports" believe not only that leagues cannot open their doors until there is the widespread availability of rapid-response testing, but that those doors will not be opened to fans until the development of a similarly accessible COVID-19 vaccine.
"Economically, it may bankrupt them not to play, but in the end, I don't think it's going to be their decision," Wojnarowski told Scott Van Pelt on "SportsCenter" on Thursday night. "This pandemic is going to decide."
Regardless of when the social-distancing measures are relaxed, I think we're an awfully long way off from having our old normal lives back. Dig in, folks.
**
Here's what Oilers' CEO Bob Nicholson had to say about concluding the 2019-20 campaign.
Business stuff from Nicholson:
– He said the NHL is determined to finish its season even if that means going well into August.
– The 2020-21 could start in Nov.
– He was asked about lowering ticket prices because of the economy and the pandemic. "We have to look at everything."

— Daniel Nugent-Bowman (@DNBsports) April 14, 2020
I tend to believe this will be the case. The league will do absolutely everything in their power to award the Stanley Cup. Even if that means a truncated 'regular-season' finish and a late start to next year. Pierre Lebrun has echoed these comments, with a scenario that sees next year's all-star game and break omitted and then running the playoffs into late-June or early-July.

Best not to payout your fantasy leagues just yet, we may still have legitimate championships played out.
**
Just a reminder that Nils Hoglander is bursting at the seams with creativity and offensive upside.
For the second year in a row, Nils Höglander has produced the Goal of the Year in the SHL. #Canucks pic.twitter.com/zKXJSvoBSK

— /Cam Robinson/ (@Hockey_Robinson) April 14, 2020
We're still waiting for him to sign an ELC, but it's expected that it will take place this summer. He'll come to camp, battle for a job, but is unlikely to steal one. Then we'll see if he sticks in the AHL or has a European out-clause that allows him to return to Rogle of the SHL for another year.

He has top-nine, feisty winger written all over him.
**
Dobber recently released his Top 50 Prospect Defenseman list. Even without the 2020 kids involved and the graduation of the Makars and Hughes', this list still has some juicy names with juicer upsides.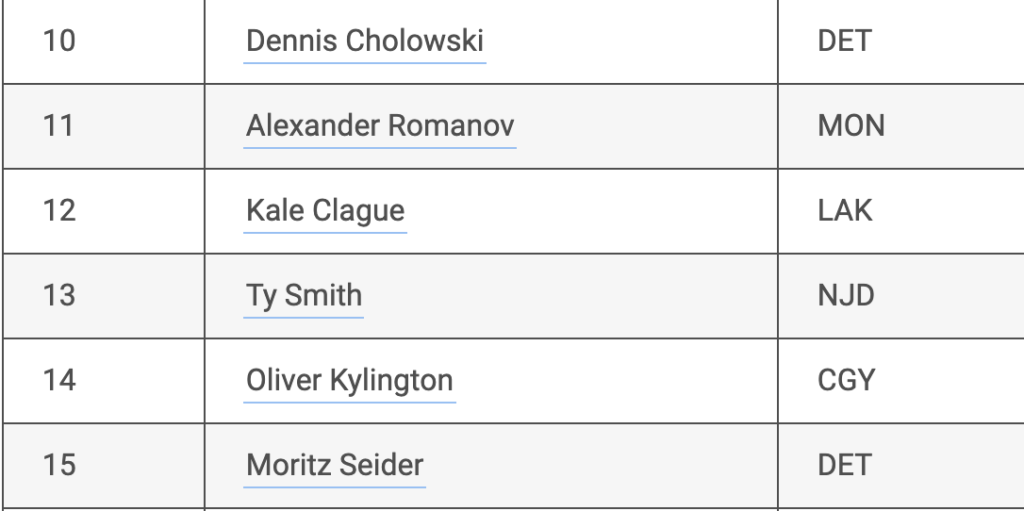 **
I took to Twitter in search of inspiration. I was looking for one player to delve into a bit. There were plenty of great options, so we'll do a few quick hitters.
Who will be the best defenseman in the league over the next 10 years and why it will be Miro Heiskanen?

— Jokke Nevalainen (@JokkeNevalainen) April 14, 2020
There's little reason to argue with my man, Jokke on this one. First off, never argue with a Finn about a Finnish hockey player. It's a no-win situation. Secondly, Miro Heiskanen is that amazing of a talent.
Using Evolving-Wild's model, the 20-year-old sophomore was amongst the top-20 defenders in a swath of advanced categories. Individual Expected Goals, Individual Corsi-for, GAR and WAR just to name a few. He was third in penalty differential, top-10 in ice time, and even-strength defence above average.

All while improving his shot and point-pace and flipping 28 goals on the ledger – going from -14 to +14 on the ever-popular plus/minus chart.

I think it's very safe to assume we're not even scratching the surface of where he'll end up. If he can pry those PP1 minutes away from John Klingberg, there's little reason to believe he won't become a top-10 D asset in points leagues.
One of Filip Forsberg, Nico Hischier, Anthony Cirelli or Nic Ehlers

— Jared Sparow (@JaredPSparrow) April 14, 2020
I'll pick Anthony Cirelli here because he's quickly become a favorite of mine – despite failing to own him in any of my keeper leagues.
The soon-to-be 23-year-old took the leap from bit part to first-line center this past year. His minutes soared at even-strength and 5v5 production elevated to a 53 point pace. It was an impressive second season.

But in order for him to take the next step into elite fantasy asset, we need that sub-1minute of power-play deployment to double or triple. No easy task on Tampa. He can't really supplement the net-front of Killorn (or whichever big body they put there). He's not taking Nikita Kucherov, Steven Stamkos, Brayden Point or Victor Hedman's job. So that leaves….well, that leaves him on PP2.

Until there are signs of that changing, don't overvalue him in drafts or trades.
**
Just a couple of random thoughts on the Penguins HoF centers.
I'm still pissed off that we lost the prime of Sid's career.

Remember when he had just come off of a 51-goal, 3rd season and was on pace for 64 before the concussions started?

We were robbed of a 60-80-140 campaign.

— /Cam Robinson/ (@Hockey_Robinson) April 14, 2020
From Nov 16 until the season shutdown, Evgeni Malkin had 67 points in 47 games – a 117 point pace.

No player had a higher points-per-game output (1.43) or a better per-60 rate (4.3) over that span. Those are career-best marks as a 33yo.

I want some more Hart Trophy talk for him

— /Cam Robinson/ (@Hockey_Robinson) April 15, 2020
Geno Malkin should certainly be considered one of the top fantasy players this year in points-only leagues. He was on another planet from mid-November on. Do I expect the same from him next season? No. So you should absolutely sell high if you can. The thing is, with Malkin, everyone always expects him to falter or be injured. Or both. In which case, you might as well just ride it out and enjoy the ride.
As for Sid, I am still pissed we lost his prime, but as Laidlaw commented on that tweet, thank goodness we have his second act. It would have been devastating if the concussions stole one of the all-time greatest players from us at 22.
**
Alright, this one may get me into a little hot water. There's a general rule of thumb that you need to wait at least five years before putting on those hindsight goggles and redrafting a class. But the world has gone upside-down face so I figured, "why not!?"
To catch you up, each week I've been re-drafting the top 10 from a myriad of draft classes.
Today, we go back just three years to take a look at a very interesting 2017 crop. Here's a link to the entire list and their NHL stats. The actual draft spot in brackets.
1st Overall (NJ) – Elias Pettersson (5th)
2nd Overall (PHI) – Miro Heiskanen (3rd)
3rd Overall (DAL) – Cale Makar (4th)
4th Overall (COL) – Nico Hischier (1st)
5th Overall (VAN) – Robert Thomas (20th)
6th Overall (VGK) – Cody Glass (6th)
7th Overall (NYR) – Nick Suzuki (13th)
8th Overall (BUF) – Martin Necas (12th)
9th Overall (DET) –Erik Brannstrom (15th)
10th Overall (FLA) – Filip Chytil (21st)
The reason we don't do these things for at least five years is that so much more development can happen outside of the 17-21 year range. We don't know yet if a player like David Farrance or Jack Rathbone or Emil Bemstrom will end up pushing into the top 10 when they see some (or more) NHL ice. Or hell, even a goalie like Ukka-Pekka Luukkonen. Who knows!

However, this class has a ton of juicy talent already making noise in the NHL. Pettersson takes top spot. He leads in goals and points-per-game. He's a true 1C at this point and making a claim to superstar status. To be honest, I had a difficult time putting him ahead of Heiskanen, but I did it. So it's done.
Heiskanen vs Makar for second overall came down to complete games. If we're speaking about fantasy, it's a no brainer. Hell, I could hear arguments for Makar over Petey with how rare it is to pull a point-per-game-type defender. But in real life, Heiskanen is just too good.

While Hischier falls from first to fourth, he shouldn't be disregarded. I maintain that his complete game is already very strong and the production will take off shortly.
Finding a spot for Nolan Patrick was difficult. He's lost an entire season due to the migraine issue. This after being unable to move the need offensively in his first two seasons as a 19 and 20-year-old. That final spot came down to Chyitl, Patrick and Kailer Yamamoto. But I went Chytil as I truly believe in his all-around upside.

Let's check back in two years from now and see where we stand. And then again in a decade.
**
I had made a pact with myself not to purchase any more jerseys until I sold off a couple. But Isolation Livin' took over and I impulsed this beauty right here. A Burnaby-Joe #20 from the 1996 World Cup.

It hasn't even arrived yet and I'm already in love.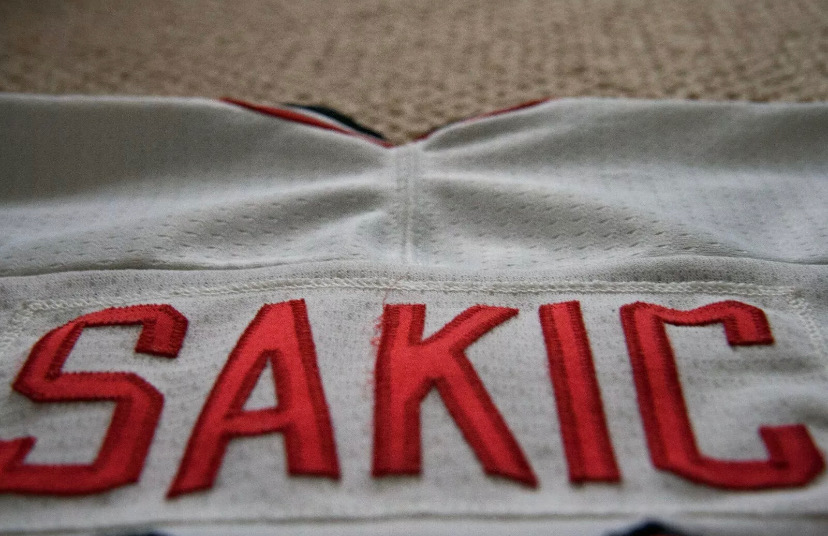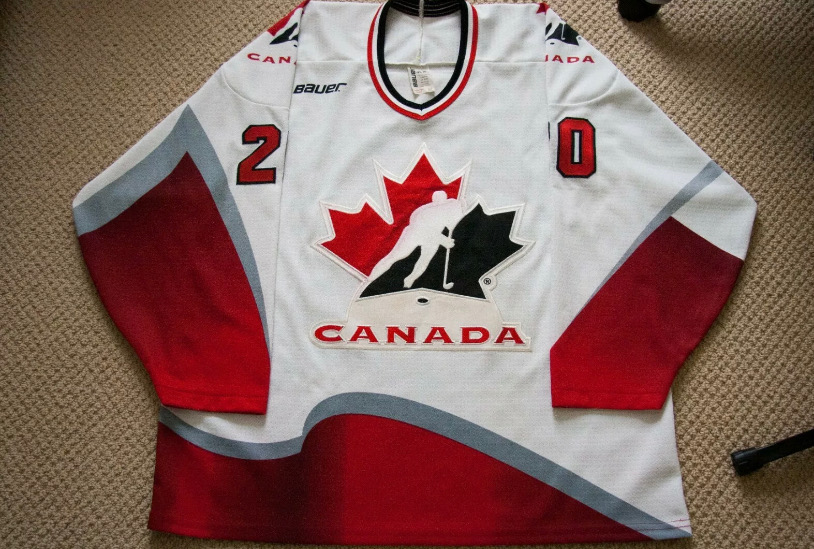 **
follow me on Twitter @Hockey_Robinson