Eastern Edge: Players who dominate certain categories
Brennan Des
2020-07-07
In fantasy hockey, there are certain players we consider to be dominant in certain categories. For example, it's a common belief that Alex Ovechkin reigns supreme in goal-scoring, that Patrice Bergeron is the face-off king (Ryan O'Reilly may have stolen the crown but I'll save that for next week) and that Pittsburgh's elite power-play results in a lot of power-play points for the likes of Sidney Crosby, Evgeni Malkin and Kris Letang. In this week's Eastern Edge, I tried to find out which players have displayed dominance in particular categories over the past few years. We'll focus on offensive categories this week (goals, assists, points and power-play points), but I plan on covering peripheral categories and goaltending categories in the future, so let me know if there's anything in particular you want me to look at!
The Process
First, I determined the top-10 players in each category over the last four seasons (19-20, 18-19, 17-18, 16-17). If a player appears in one of the tables below, it means that they finished in the top-10 of that category at least once over the past four years.
I came up with a 'Dominance Score' to reflect how well a player performed in a particular category. Players were rewarded if they ranked highly within the top-10 (i.e. finishing second in goal scoring would give you more points towards your Dominance Score than finishing eighth in goal scoring) and for making the top-10 in multiple seasons. I did this because both quality and consistency should be considered when assessing dominance in a category. A more detailed view of my point system is shown below: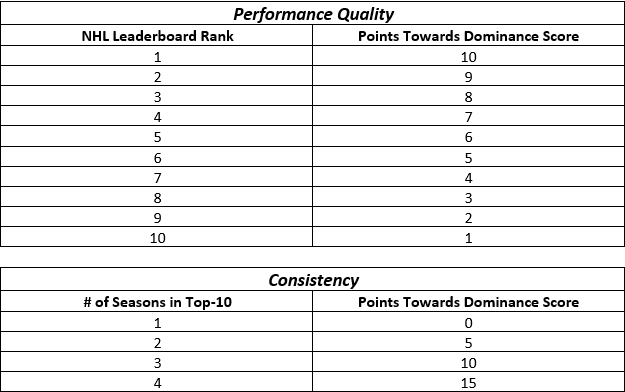 For each category below, you'll see a table with four main columns. The first column – Rank – essentially tells you which player has been the most dominant in that category over the last few years. It's based on the Dominance Score you see in the right-most column. The third column – NHL Leaderboard Rank – shows you where a player ranked within the top-10 for each of the last four seasons. You'll see a dash if they didn't crack the top-10 that particular year. To give you a quick example, in the Goals table, you'll see that Matthews finished third in goal scoring this season (2019-2020) and second during the 2016-2017 campaign.
Goals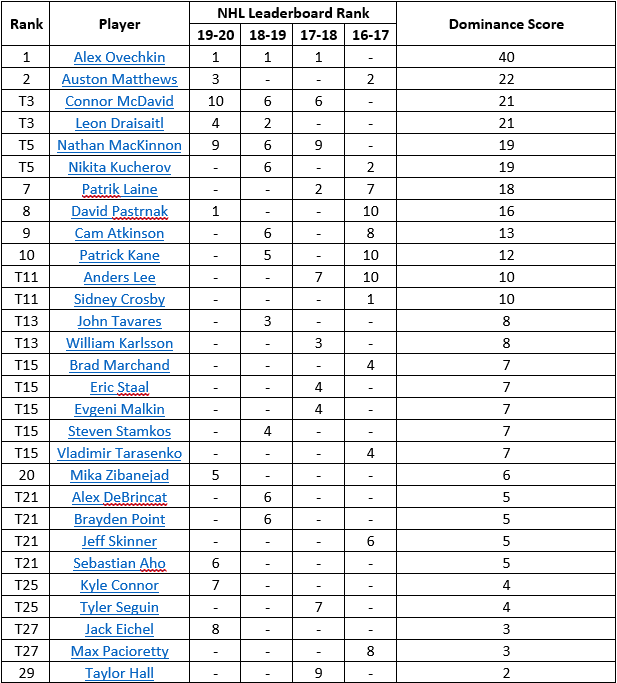 While a few young guns like Matthews and Pastrnak are beginning to challenge Ovechkin for his crown, you can't deny the Great Eight's goal-scoring dominance over the past few years. It'll be interesting to see if Ovi can continue to dominate the category through his mid-thirties.
In the past four years, Cam Atkinson and Anders Lee have been top-10 goal scorers twice – an accolade which they share with Patrick Kane and Nikita Kucherov. If you're looking for underrated goal scorers in the later rounds of your fantasy draft, Atkinson and Lee are definitely a couple to keep in mind.
A lot of people act like Jeff Skinner came out of nowhere and scored 40 goals last year, but they forget that Skinner scored 37 during the 2016-2017 campaign and had a couple of 30-goal seasons before that. I think he can bounce back next year, but I'd definitely like to see him reclaim a prominent role on the power play. Victor Olofsson took over Skinner's role as the trigger man on Buffalo's top unit this year and it's no coincidence that Skinner failed to score a single power-play goal this season.
Assists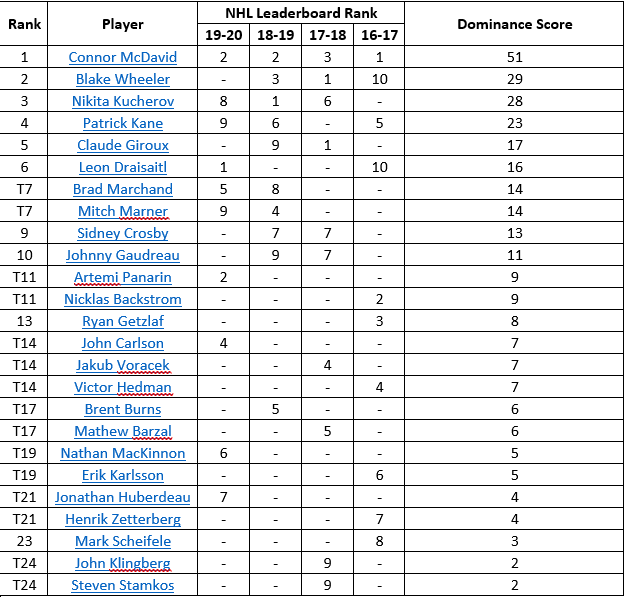 I've always thought of Nicklas Backstrom as an assist-machine. While he has consistently tallied 50-60 assists over the past few years, when compared to fellow NHLers, his performance in the category doesn't quite indicate dominance.
Points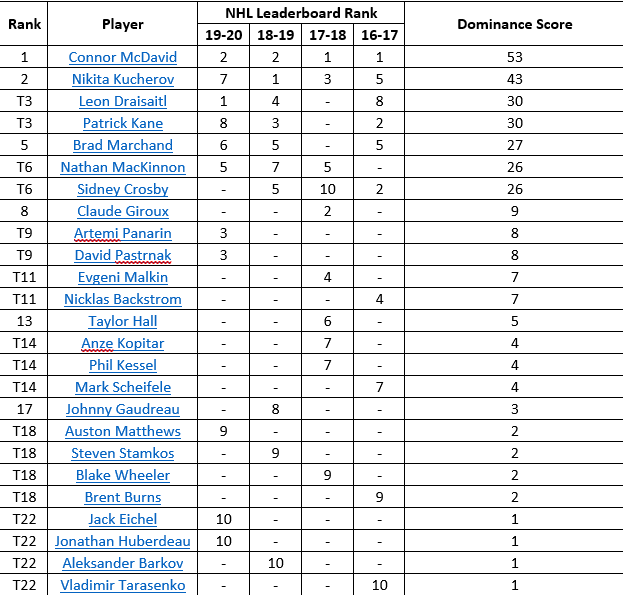 I know this is 'Eastern Edge' and I'm technically not supposed to talk about players from the West – but holy moly Connor McDavid. Some may argue that Kucherov is more valuable than McDavid in fantasy formats because Kucherov is a winger and there aren't as many high-quality wingers as there are high-quality centers. In my opinion, McDavid should always be taken first overall in one-year leagues unless your league skews heavily towards peripheral categories – then you might have to consider Ovechkin.  
Power-Play Points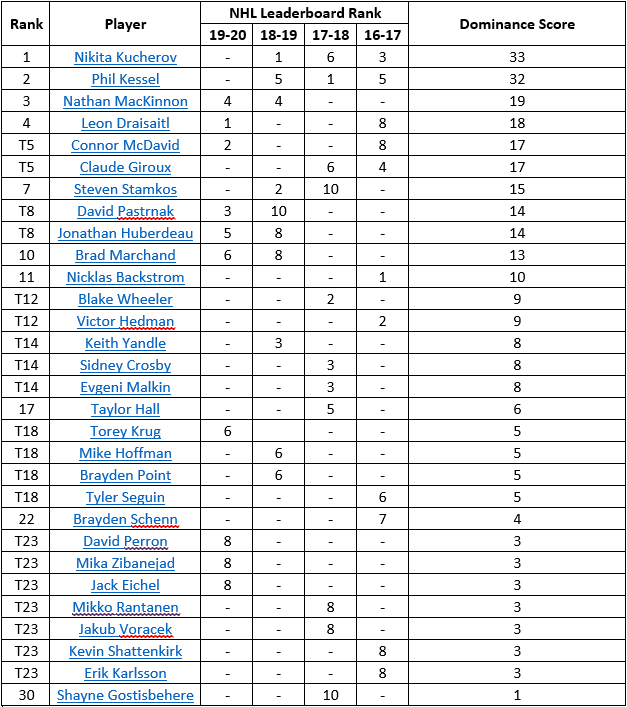 We all know how talented Pittsburgh's power play has been over the past few years, but I initially found it interesting that Kessel displayed more dominance in power-play production than Malkin, Crosby and Letang over the past few years. Obviously, it makes a bit more sense when you consider injuries and the fact that Kessel hasn't missed a game in years. With that being said, Kessel reportedly battled through a number of ailments this year, which may explain his disappointing point total.   
Considering Ovechkin averages over four minutes of power-play time, it's remarkable that he hasn't been able to crack the top-10 in power-play production over the last four years. His power-play numbers haven't necessarily been bad, but it surprises me that so many players have outproduced him on the man advantage despite having fewer opportunities.  Maybe it's because Ovi plays a more stationary shooting role on the power play and teams pay so much attention to neutralizing his shot?