Frozen Tools Forensics: Analyzing goalies on the move
Chris Kane
2020-10-09
Things are certainly moving along in this NHL 'summer'. We have a Stanley Cup champion, we have drafted players, and we have a few trades. Dobber Hockey, as always, has hit the ground running with trade analysis for all the fantasy-worthy trades – giving you the takes you need to consider the fantasy impacts. There were a couple that caught my eye and got me thinking about goaltending. Matt Murray and Devan Dubnyk are headed to new homes in Ottawa and San Jose, made superfluous apparently by the play of their backups. The impact articles linked above are excellent and got me thinking a bit more about how these goalies had been performing and what they might be bringing to their new teams.
This week in Frozen Tools Forensics: Goalies on the move
To start I wanted to take a look at goalie performance over the last two seasons and see how our dynamic duo did in comparison. To do that I ran a Big Board Goalie Report and set a custom date range to include the last two seasons.
The first table is sorted by top ten in save percentage over that time span with the additions of Murray and Dubnyk. There is also a filter applied for a minimum of 70 games played over the course of the two seasons.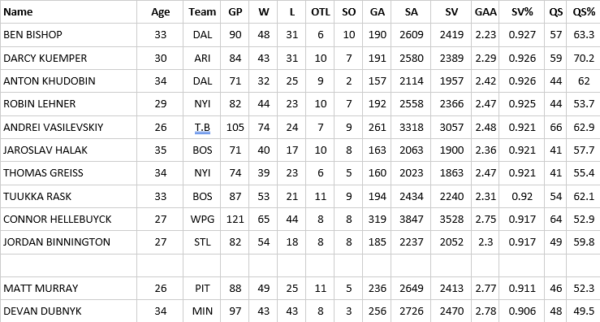 In general, we see a number of usurping goalies or tandems (and only two goalies who played over 100 games). Darcy Kuemper, Anton Khudobin, Robin Lehner, Jaraslov Halak, and Thomas Greiss (and even Jordan Binnington) have spent a significant portion of their games splitting time. It is definitely a trend we have seen over the last several seasons of teams relying significantly less on the workhorse model of goalies but runn