Ramblings: Bubble Keeper Comparisons in Miller/Romanov, Ned/Hart; Backes Retires – September 10
Michael Clifford
2021-09-10
Yesterday in my Ramblings, for Bubble Keeper Week, I wrote about several pairs of forwards that have relatively the same ADP and draft rate on Yahoo. The purpose is that there aren't many uniform ways to rank players, and in a space where everyone has the same access to the same information. Yahoo ADP seems to be the easiest way to include the most people into the conversation.
Anyway, we continue our work today by going through defencemen and goalies. Again, these will all be players with an ADP of 130 or later and I'll group them by the rate at which they're drafted. We all on the same page? Good, great, grand, wonderful. NO YELLING ON THE BUS.
K'Andre Miller vs. Alexander Romanov
It was an uneven year for Miller, who started the season strong but seemed to wear down as the months wore on, past April or so. That isn't a red flag or anything; he was a rookie playing a team with playoff aspirations in a COVID-shortened campaign. That unevenness led to him being unable to drive the play in either direction, unlike the comparison here (from Evolving Hockey):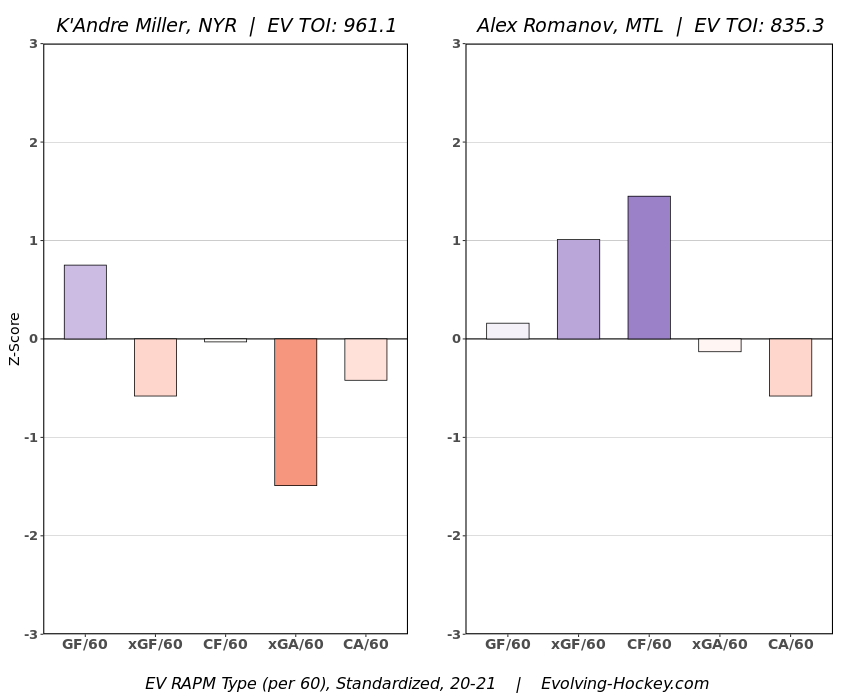 It isn't to say it was all bad. Miller was second on the Rangers blue line in zone exits with control, behind only Adam Fox. According to Corey Sznajder's data, that puts him in company with players like Ryan Ellis and Hampus Lindholm league-wide. Those aren't bad names to be compared to in transition offence as a rookie. Where he struggled a bit was giving up the blue line, and those kind of extended shifts in the zone are going to make defensive metrics very unflattering, and the offensive ones as well as a result. He is just a player still rounding into form: not elite at anything yet, but the building blocks are there. He just needs to put them all together. At the least, he should provide triple digits in both hits and blocks, and that's not nothing.
On the flipside, Romanov can bring even more peripherals. Despite 1