Daily Fantasy Saturday: Be Leaf in a Toronto Stack
Stephen Dotzel
2021-10-23
The second Saturday of the NHL season has arrived and while last week was fun, we really had yet to see a majority of the teams in action. Headed into this week, things are starting to feel a little more normal. Well except for the fact that Buffalo is 3-1-0 and Colorado is 1-3-0. But there's still plenty of time for that stuff to work itself out.
On the fantasy side, in my article last week I touched on two key points for your daily fantasy lineups – targeting players who shoot the puck and correlating the players in your lineups. Let's take a look at the lineup that took first place in the $15K Forecheck contest on DraftKings. This contest costs runs daily and is $4 to enter, limits each person to enter a maximum of 20 lineups, and usually has between 4,000 and 6,000 entries.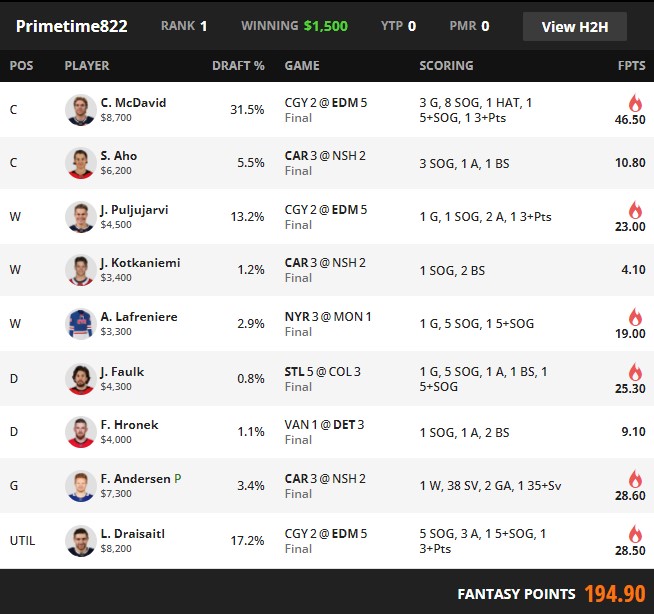 Before getting into the specifics of the lineup itself, it's usually good practice to review the top lineups from the contests you are in on a daily basis. Seeing how top finishers constructed their lineups may show you a strategy that you wouldn't have otherwise considered.
For this particular lineup you can see Connor McDavid led the way. If you did read my article last week you would have seen him and the Oilers were the first stack listed. However, with McDavid at 31.5% ownership it was going to take much more than just rostering him to be successful on this night. This person used the full line stack so Leon Draisaitl and Jesse Puljujarvi made the lineup as well. And you can see their ownerships of 17.2% and 13.2% respectively are much lower than McDavid. This means that at most 13.2% of lineups rostered all three players together, but it's safe to assume the actual number is likely much lower than that. With those three players combining for 98.0 DraftKings points, it really shows the power of a stack when things go right.
Moving beyond the Edmonton trio, the next stack utilized in this lineup was from Carolina with Sebastian Aho, Jesperi Kotkaniemi, and Frederik Andersen. Aho and Kotkaniemi both skake on the top line together for the Hurricanes. Andersen is obviously the goalie and correlating your goalie with one of your stacks is often times a viable strategy. If you think about it, for your lineup to do well your stacks are going to have to do well. If they do well, that means their team is scoring goals which means the goalie shou