Daily Fantasy Saturday: Winging It
Stephen Dotzel
2022-03-19
In last week's article we were once again on the right path committing to 4-3-1 lineup construction builds with an emphasis on the top power play, as evident by the first place $10,000 winning lineup in the DraftKings $15 Kick Save Tournament (see below).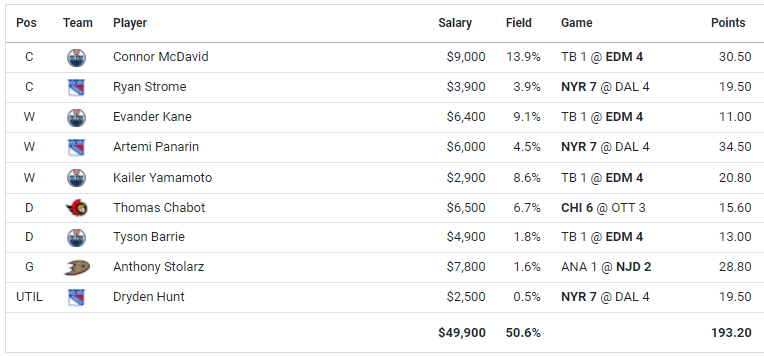 This lineup entered by user joeflanagan9 featured a four-player Edmonton stack, three of which were the Connor McDavid, Evander Kane, Kailer Yamamoto trio who were fully correlated on the first line and power play. Tyson Barrie who was the defenseman for the second power play at the time rounded out the stack, which had a total price tag of $23,200, under the $25,000 mark we look to stay below. The three-man stack in this lineup was the Rangers second line and Thomas Chabot of the Senators top power play rounded out the lineup. All total this lineup had six skaters on the top power play and was a near perfect example of what I've been touching on the past few weeks as far as construction.
Unfortunately for me, the Edmonton-New York combo was not one that found its way into my lineups on Saturday. However, every day brings a new slate and every slate brings another chance for us to land on a winning lineup like you see above. Today's schedule is bit of a mixed bag. Sure, there are 11 games but with start times scattered throughout the day, we are left with just a five-game main slate starting at 7pm EST. Despite having six games prior to that, DraftKings decided to split those into two three-game mini slates so the five-game main slate is actually the biggest we have for the day. Not idea but we'll make the most of it.
Also, don't forget about the DraftKings DFS Player Evaluator over in the Frozen Tools and the three formulas it provides as another resource for your DFS lineups. As for where I'm looking, see below. All prices are from DraftKings but plays can be applied to any site.
Four Player Stacks under $25,000
Detroit – Probably not the team you expected to show up first in the article today, but the Red Wings have a sneaky good combination of matchup and price tonight. On the matchup front, the Kraken come in having lost 12 of their last 14 games and in those 12 losses they've allowed at least four goals eight times. Despite this, the Red Wings are priced as if they were in Calga