Daily Fantasy Saturday: A Sabre Stack
Stephen Dotzel
2022-04-16
With both the NHL season and season long fantasy leagues winding down, now's as good of time as any to dabble in daily fantasy where every slate is a new beginning that has its own independent contests. As a reminder, we've recently launched our own DFS subscription service, complete with our lineup optimizer and currently we're running a promotion if you want to check it out:
"Try Our Daily Fantasy Tools – Thousands of simulations run instantaneously to provide you with the most optimized lineup – Order Now and Get $20 Off!"
Recapping last Saturday, you won't believe it but another 4-3-1 stack took down the first-place prize in the DraftKings Kick Save Contest.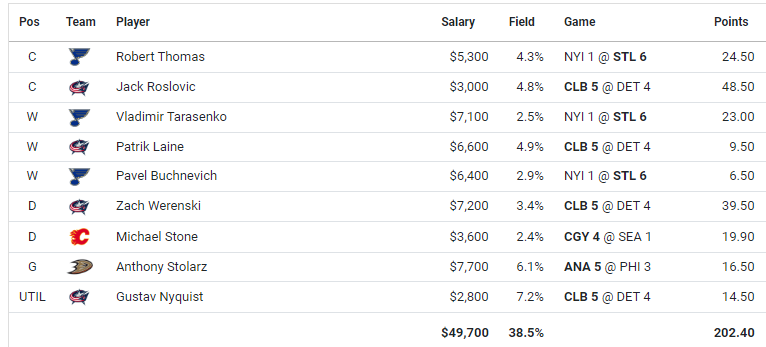 Unfortunately for us, St. Louis and Columbus were not on my list of targets for that slate, so this was a lineup I was not close to duplicating. However, it checks all the boxes in the style of lineup I've been trying to build consistently. Those boxes being a four-man stack under $25,000 in salary, a top tier three-man stack to go with it, a one-off power play defenseman, and at least six players on a top power-play unit. I'll continue focusing on that type of build going forward in the hopes of landing on two stacks that can combine for a tournament winning score.
For tonight's action we've got nine games on the slate so let's find some places to attack. All players and prices are from DraftKings but can be applied to any site.
Four-Player Stacks under $25,000
Tampa Bay – All but out of the playoffs at this point, Winnipeg comes into Saturday's contest also down Mark Scheifele from the lineup. With it being a back-to-back and Connor Hellebuyck having started Friday (and getting chased), the Lightning will likely see Eric Comrie, who hasn't started a game since March 31 where he allowed six goals. It's a recipe that has all signs pointing to Tampa in this one. Look at the big three of Nikita Kucherov ($7,700), Brayden Point ($6,900), and Steven Stamkos ($7,200) with a cheap option like Nick Paul ($3,000) or Erik Cernak ($2,600) to round out the stack and stay under the threshold.
Dallas – The top line for the Stars has been one of the best in the league all season and that's only been magnified