DFS Thursday: Project a Panther and Ranger Bounceback
Stephen Dotzel
2022-05-05
It's playoff time and I'm taking advantage of these four-game slates while we have them. After the first round, we're looking at what will most likely be just two-game slates and eventually of course one-game showdowns. I was fortunate enough to start the playoffs on a high note with a $500 third place finish with one of my three lineups in Monday's $15 Kick Save contest on DraftKings.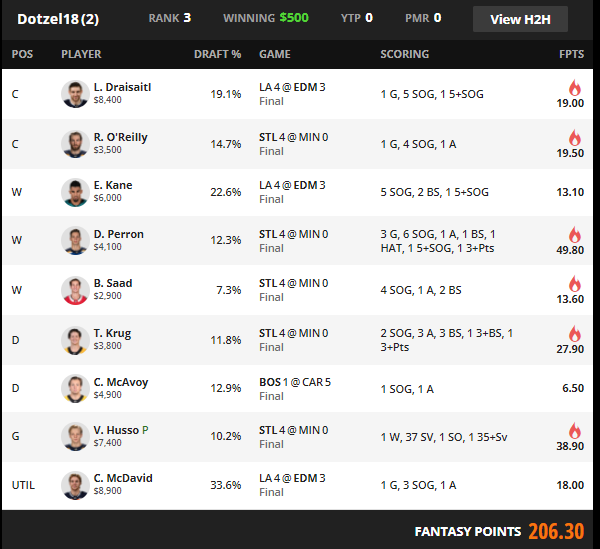 While Edmonton was the team I paid up for here, it was really the Blues stack that did most of the damage. Funny how it plays out sometimes as I really wasn't on the Blues but given the expensive price tags on Edmonton my options were really limited and St. Louis just fell into my lap. I stuck with the traditional 4-3-1 build (4 players from Team X, 3 players from Team Y, 1 player from Team Z) and included my goalie with one of the stacks (Team X or Y), which really paid off. Hopefully we can find similar success tonight.
If you want to give the Dobber Hockey DFS tools a shot, you can here:
Try Our Daily Fantasy Tools – Thousands of Simulations Run Instantaneously to Provide You With the Most Optimized Lineup – Order Now and Get $20 Off!
All players and prices are from DraftKings but can be applied to any site.
Top-Tier Stack to Target
With Tuesday's slate having been exactly the same as this one, we can look at ownership from those contests and have a really good idea of where people are going to go with their lineups. That will be Colorado who had four of the top six skaters in terms of DraftKings contest ownership, and then parlayed that into seven goals. As a result, their ownership probably goes up even further Thursday and you're likely to see Nathan MacKinnon ($8,900) and Mikko Rantanen ($7,000) pushing 40% owned. Numbers that high are tough to stomach for large field tournaments and set up well for those who want to be contrarian in case Colorado flops.
However, assuming they don't and you want to play it safe, look at adding secondary options such as Valeri Nichushkin ($4,700) and Nazem Kadri ($6,600) into your stacks with the big guns as they will come with a significant ownership discount. On Tuesday, those players were found in roughly 15% and 10% of lineups respectively, compared to the 30-40% for the duo above.
Also consider Florida. Surprisingly the Panthers players were mostly an af