DFS Saturday: Playing Lower-Seeded Teams
Stephen Dotzel
2022-05-07
It's Groundhog Day here with today's DFS slate being identical to the one from Thursday's with the same four matchups, however we do get a venue shift with all four series moving to the lower seed's arena. While I understand rostering players from Nashville, Pittsburgh, and Dallas may seem counterintuitive considering the majority of people feel they are the inferior team, a shift to their home arenas could give one or two of these teams a scoring bump and very few have been rostering them.
To get a visual of what I mean, here are the average ownership numbers for each player on each team through the first two games of each series. Numbers come from the DraftKings mini-max contest with about 9,000 entries. I removed any player averaging 1% or less.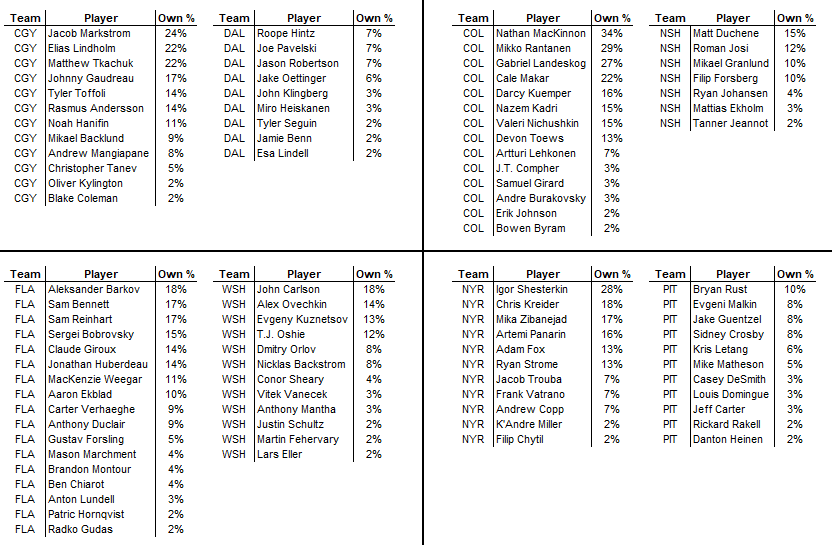 You can notice that outside of the Florida-Washington series which is somewhat close, the lower-seeded team is coming in at much less ownership than the higher-seeded team. While this shouldn't come as a surprise, it does set up well for a team like Dallas or Pittsburgh in tournaments if they can score a few goals on home ice at 10% ownership or less.
Playing low-owned players/teams isn't necessarily the key to winning, but it helps to think of large tournaments as follows. There are 9,000 entries in this tournament. If you play Colorado and things go right for you, meaning you get multiple goals from your players/stack, so did roughly 30% of the field, or about 2,700 lineups. You are now competing with those 2,700 other lineups for first place, which will obviously be decided by the rest of your roster.
If you played Dallas, and things go right, well only 7% of the field, or about 630 lineups have them. Your chances of coming in first place are betting trying to beat out 630 lineups as compared to 2,700 lineups. Obviously on paper and in the long run, Colorado will outscore Dallas more often than not. However, in a one-game sample anything can happen and that's the beauty and curse of DFS.
Hopefully some of that makes sense, so thank you for coming to my TED talk. Now let's get to some actual plays for this four-game slate. An important note that this slate starts at 1 pm EST, not the usual 7 pm EST we're used to. You will have to get lineups in early! All players and prices are from DraftKings but can be applied to any site.
If you want to give the Dobber Hockey DFS tools a shot, you can here. Try our Daily Fantasy Tools – Thousands of simulations run instantaneously to provide you with the most optimized lineup. Order Now and Get $20 Off!
Top-Tier Stack to Target
I'm not going to say don't play Color